Kenmore and District Historical Society Incorporated
The Kenmore & District Historical Society Inc was formed through a Steering Committee with Pat Dryden as convenor late in 2013.  Sue Turner, Brian Becconsall, Sue Deal and Fryi Fahir were involved in that early stage.
The Society aims to research, promote, record and publish the history of the Kenmore district, including the suburbs of Kenmore, Kenmore Hills, Chapel Hill, Fig Tree Pocket and Pullenvale.
The Annual General Meetings held in November each year and the committee meets each October for a planning day to assess current activities and to plan for the next year.
A Management Committee was formed early in 2014 and first met in February and became officially incorporated in May 2014.  At October 2016 there are 62 members of the Society, many of them having lived in the Kenmore district for many decades.  There are also younger people who have a keen interest in understanding the continuity of the community in which they live.
The current committee members are:
President
Secretary
Treasurer
Suzanne Hanson
3378 1287  roysuz@hansons.net.au
Members
Sue Deal
PO Box 47, Kenmore, Qld, 4069
3374 2663  suedeal@bigpond.com
Ian and Cathy Douglas
3378 6973  ic.douglas@gmail.com
Dianne Harris
3878 4008  dianneharris2015@gmail.com
Judy Magub
3878 4330 jmagub@ozemail.com.au


Resource Location and Arrangements
The Kenmore and District Historical Society (KDHS) has a collection of resources covering a broad range of themes on Kenmore and district.  The RSL have generously allowed KDHS to store these valuable resources, as well as a computer, at the RSL rooms at the Fairview Aged Care Facility, Pinjarra Hills.  The room is a place where students are encouraged by the RSL to research from the RSL's collection, and where members of KDHS can view the society's resources and research material.
For more information about the KDHS resource location and arrangements please follow this link.
Please note that the KDHS collection can be viewed by appointment only.  If any members wish to view our records please contact the Committee at kenmorehistory@gmail.com
The September meeting of the Kenmore and District Historical Society Inc will take place on Thursday 21st September 2017 from 7 to 9 pm at the Kenmore Library. The Guest Speaker will be Angus Veitch, who will be speaking about 'Western Creek and Beyond: a digital tour of Brisbane's lost landscapes and forgotten waterways'.
For further information contact the committee at kenmorehistory@gmail.com
The Kenmore and District Historical Society meetings are held on the third Thursday of the month from 7 to 9pm unless otherwise advised.  Upcoming dates for 2017 are listed below.  Guest speakers and topics for these meetings will be advised closer to the date.
Upcoming dates for 2017:
Sept 21, Oct 19, Nov 16.
Kenmore South State School 50th Anniversary fete
On August 5th 2017 a number of KDHS committee members attended the Kenmore South State School 50th Anniversary fete.
The fete was a great success. Everyone had a good time and lots of people came to look at the posters and the 1951 map and to have a chat.
The photos below show the KDHS stall.  The members who helped on the stall were:- Dianne Harris, Pat Dryden, Cathy Douglas, Ian Douglas, Janet Spillman, Roy Hanson & Suzanne Hanson.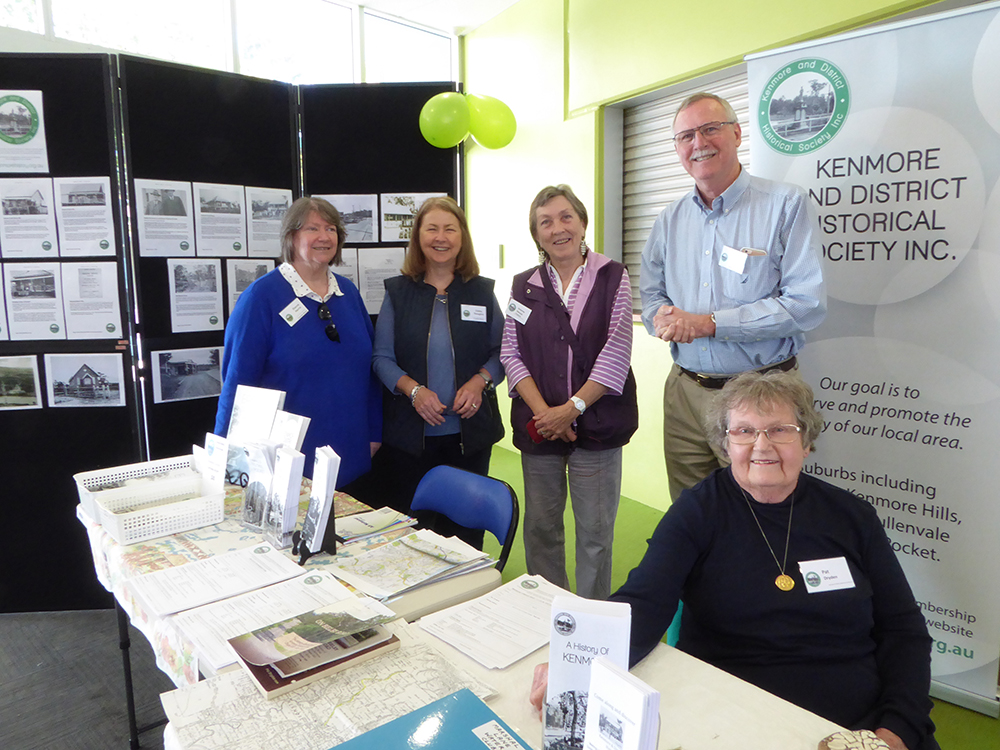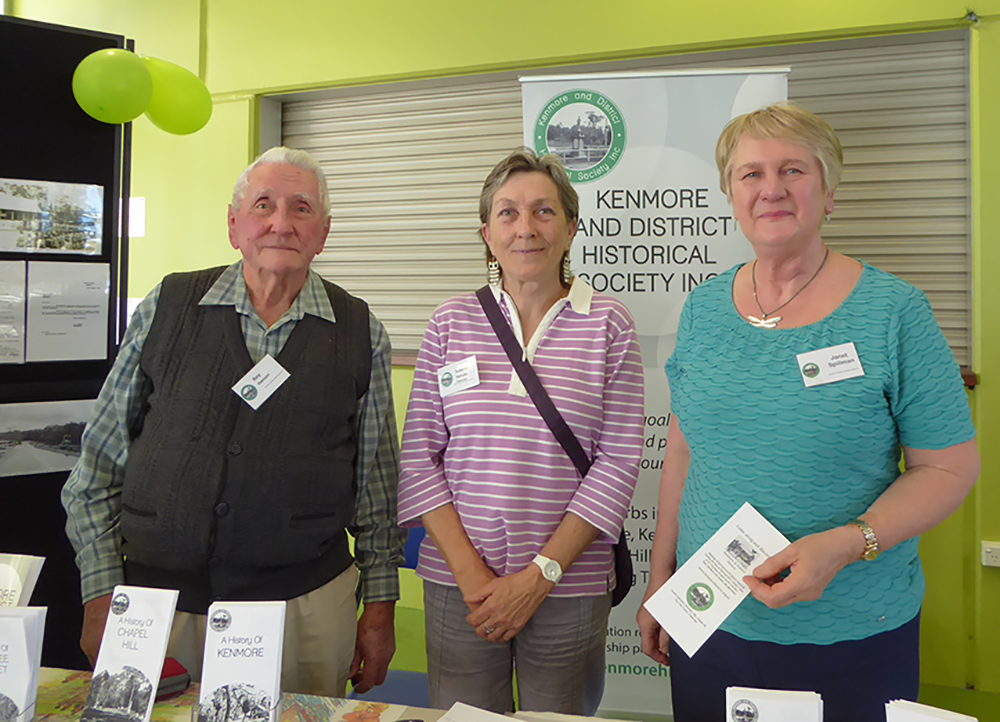 Everyone is welcome to join the Kenmore & District Historical Society Inc.  The benefits of becoming a member are detailed below.
Knowledge that you are supporting volunteer work within the Society
Receipt of a monthly newsletter
Events and activities
Free access to research material
Monthly meeting with a guest speaker
Opportunity to meet others from our local community who have an interest in history
A membership application form can be downloaded here.
Members Jim and Barbara Shepherd are researching Kenmore and district postal and mailing services. The first postal service in the overall district appears to have been at Moggill in 1861. In those early years the mail was run from a store and this was the case with Moggill. Sometimes the service was run from a school as happened at Fig Tree Pocket from 1871. The next district postal services opened in Brookfield in 1876, then Pullenvale in 1878 and Indooroopilly in the early 1880s. Right up into the 20th century, farming families at Kenmore had 'C/- Post Office, Indooroopilly' as their postal address.
To contribute to this research please contact Jim Shepherd, jshepherd34@bigpond.com